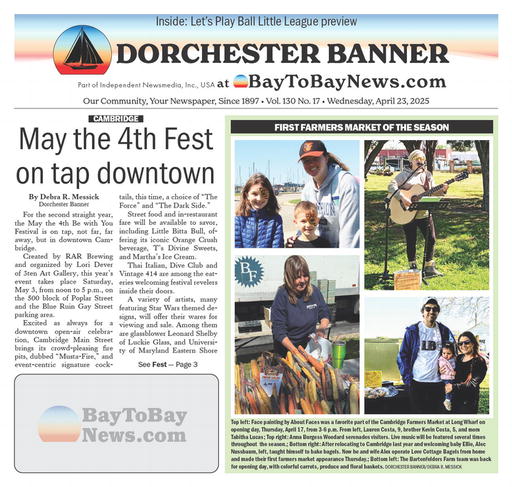 Serving the Eastern Shore since 1897, The Dorchester Banner, which publishes on Thursday, dominates the market in Maryland's largest county, Dorchester County.
The city of Cambridge is the center of Dorchester County's population as well as its business and cultural activity. Cambridge is a deepwater port, offering direct access to ocean-going ships and coastal freighters. Almost half the work force engages in manufacturing. The remainder are primarily employed in retail, agriculture and seafood harvesting and processing.
Nestled in the corner of the Delmarva Peninsula where the Choptank River opens to the Chesapeake Bay, Cambridge is within easy reach of Baltimore (86 miles), Philadelphia (185 miles), Washington, D.C. (97 miles) and Ocean City, MD (69 miles).
The Dorchester Banner is a member of the Dorchester Chamber of Commerce. The chamber's mission is to advance Dorchester County through educating, promoting and growing a strong business community.
Contact
Address: 103 Cedar Street, Cambridge, MD 21613
Phone: 410-228-3131
Email: Visit our contact page for a complete list of email contacts.
Social Media: Follow us on Facebook and Twitter.
Marketplace: Shop ads from our print edition.
Print edition
Home delivery (where available) or mailed subscriptions are $3.25 a month, plus tax (less than 40 cents an issue, before tax). Visit our online subscription center for more information. The paper is for sale at select locations for 50 cents a copy. Delivery questions or problems? Send email to our customer service team.
Electronic edition
Our e-editions are $26 a year. Try a free demo of an electronic edition.
Advertising
Classified Advertising: FREE online classifieds. No limit on the number of ads. Up to 400 words and four photos free. Many options to upgrade your ad or publish in print. You can submit your ad online or send email to our classified team for more information.
Display advertising: Send email to our sales team or our billing team, or view our online media kit for information about this and other Independent Newsmedia Inc. publications in the Delmarva area
Archives
The Dorchester Banner's online archive contains staff-written and other selected articles from 1991 to the present. Searches are free. You may purchase individual articles for $2.95 or select a package for multiple articles.